A good way to spend four hours of your non-life? Picspamming boy toys from this year and the year before who've brought the pretty and the hoyay. Not much of a TV junkie these days, so I only have two bromances to gush about this time around. Presumably if others come up, I'll picspam them in subsequent parts. :D</font>

UM. SO. I need channels from the UK. Seriously. Merlin is yet another show from the across the pond that has stolen my heart and has made gelatinized shit of my brain and I mean that in the best way possible. It's finally been picked up by NBC and will start airing on June 21st. So if you're into cheese, sillyness, passable CGI, engrossing writing, and episodes that actually use the full hour, AND PRETTY HOYAY, YOU MUST TUNE IN.

Nothing like a prince and his wizard to make fulfilling your destiny look outrageously hot.
LOVE AT FIRST SIGHT.

Arthur: Do I know you?
Merlin: Um, I'm Merlin-
Arthur: So I don't know you.
Merlin: No-
Arthur: Yet you called me friend.
Merlin: That was my mistake.
Arthur: Yes, I think so.
Merlin: Yeah. I'd never have a friend who could be such an ass
Arthur: Or I one, who could be so stupid. Tell me, Merlin: do you know how to walk on your knees?
AT EACHOTHER'S THROATS LIKE A MARRIED COUPLE.

Arthur: You have any natural gifts, Merlin?
Merlin: No. Wait, let me think-I'm not naturally rude or insensitive.
Arthur: Just naturally irritating.
NO TO WATCHING MERLIN DIE.

Uther: Arthur you are my only son and heir. I can't risk losing you for the sake of some serving boy.
Arthur: Because his life's worthless?
Uther: No. Because his life is worth less than yours.
Arthur: Please, father. He saved my life. I can't stand by and watch him die.
BECAUSE ARTHUR LIKES MERLIN.

Hunith: He must care for you a great deal.
Merlin: Arthur would do the same for any village. That's just the way he is.
Hunith: It's more than that. He's here for you.
Merlin: I'm just his servant.
Hunith: Give him more credit than that; he likes you.
BECAUSE ARTHUR IS MERLIN'S FRIEND, DESTINY OR NOT.

Merlin: He can't die, it is my destiny to protect him! We haven't done all the things we're meant to do.
Gaius: That is the lament of all men.
Merlin: Gauis, he's my friend!
PRETTY BROMANCE IS PRETTY.

Honestly how pretty is this bromance!? Bradley James is like a younger, blonde, British version of Jensen Ackles (both men are equally dorky and funny and have that douchey frat boy look down.) Colin is all kinds of adorable, bringing back the bowl cut and dressing strangely hipsterish for someone of the medieval era.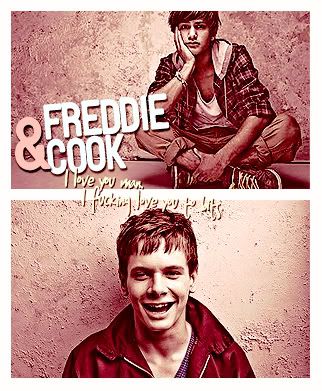 An outrageous fuck-up and an emo stoner. Beginnings of a classic love story, am I right? Childhood friends now entering college, the boys' strained relationship is put to the test when stone cold fox Effy Stonem enters the picture. Oozing need, possession, tension, friendship, and love, Freddie and Cook bring the HOYAY to the new cast of Skins.
BECAUSE COOK NEEDS FREDDIE TO SAVE HIM FROM HIMSELF.

Cook: Something happened. I wasn't me. I was me but I don't know. I did something stupid.
Freddie: That's nothing new.
Cook: Something really stupid. Something I wouldn't have done if you was there.
Freddie: Right, so you've come here to ask me to look after you all the time? Make sure you don't do anything stupid ever again?
Cook: Something like that.
BECAUSE COOK LOVES FREDDIE TO FUCKING BITS.

Freddie: Why are you smiling?
Cook: Because it's US; you, me, and JJ. Best mates for life.
Freddie: You're not taking me with you.
Cook: I fucking love you, man.
Freddie: -speechless-
Cook: I fucking love you to bits.
Freddie: I... yeah. Okay.
DID I MENTION HOW MUCH COOK LOVES FREDDIE?

Freddie: You prick! You selfish fucking prick! *seizes Cook by the collar of his shirt*
Cook: Do it then you fucking pussie.
Freddie: *releases his grip and headbutts the shit out of Cook's forehead*
Cook: *grabs Freddie, and after some insanely hot tension, kisses him* I really fucking love you, you bastard.
BECAUSE COOK HAS FREDDIE.

Freddie: Cook are you alright?
Cook: He didn't mean it. What's the fucking difference? Nothing good ever stays with me, absolutely nothing.
Freddie: You've got me.
BECAUSE FREDDIE MISSES COOK AND JUST WANTS IT TO BE OKAY.

Cook: She doesn't love me.
Freddie: She does, I know she does-
Cook: She loves you better.
Freddie: I was with her last night, you understand? So you know what I've come here to ask you. Cook, please, PLEASE just say it's okay.
ONCE AGAIN. PRETTY BROMANCE IS PRETTY.

No one since Nate Archibald has anyone sported man-bangs so becomingly. Hats off to Luke Pasqualino, who is, actually, I believe, a working model. And Jack O'Connell just makes bruises, sweat, beer stains, and self-destruction look damn sexy.
***
Merlin Caps
here
.
Skins Caps
here
.